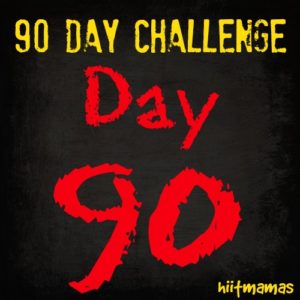 THE END!!
Run 5,000 meters (5K)
Compare to 01.01.18 (beat your time from Day 1!!)
Post time to comments.
Congratulations Hiit Mamas!
You have completed your 90 Day Challenge! 
Today you will give your self a pat on the back, heck, give yourself a big slap on the booty, you've earned it! Today you will also weigh yourself (hopefully for the first time in 90 Days!), take the same measurements you did on Day 1, and take your after pictures!!
I am so proud of all of you and what you have accomplished in the last 90 Days and I can't wait to hear about and see your results.
The
 final challenge
 that I will give you is to 
share
 your accomplishment. If you are proud,  post your results and before and after photos on our
Facebook page
. If you are a little more shy, send me your results and photos (hiitmamas@gmail.com) and I will chop off your head and post them anonymously (with your permission) on our upcoming WODs. You will also get a WOD 
named after you
 for sharing. It will be such a motivation and inspiration to all of our new 90 Day Challenge Mamas to see what you have been able to 
accomplish
 during your 90 Day Challenge.
Then get ready for your next 90 Day Challenge coming up soon. The additional challenges will all be the same for you, so just keep up the good work and look for more ways to improve your diet and lifestyle along the way.
Previous 90 Day Challenge Finishers