HERO WOD
"Mia"
50-40-30-20 and 10 rep rounds of:
Wall ball shots, 10 lbs ball
Box jump, 18 inch box
Kettlebell swings, 20 lbs
Post time to comments.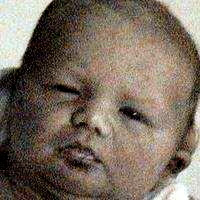 Baby Mia
"Hi
Jenni!
First,
I just want to thank you from the bottom of my heart for the hard work you do
to keep this blog going for all of us…I started following in January and
began doing the workouts consistently in February. I never thought I
would ever be able to shed those last 5 pounds after having my third child 10
years ago. But, I have done it! I have definition in places I never
thought possible and I wake up in the middle of the night to check out the wod.
I'm addicted! No other exerices regimen has done this for me! I
share the workouts with my 13 year old son- it's helped him build stamina for
wrestling…It's a great way for us to spend time together.
Anyway-
while doing the Hero workout this am…brutal by the way! I find myself pushing
hard for those fallen…but today I found myself thinking of my second child,
Mia. She was born on December 4, 2001. She was full term, but ended
up in the NICU because of a fever. Doctors said it was no big deal, but 5
days later on December 9, she passed away. I spent this weekend
participating in a memory walk for all who have lost a baby and helped a friend
honor her child's first birthday in Heaven. October is Pregnancy and Infant
Loss Awareness month. I am sure I'm not the only Mama on this blog who
has lost a baby. Just a thought of doing a WOD for those babies
who fought hard to be with us here on Earth and were taken way too soon. Thanks
again for all you do- you are a blessing!!"
Julie/F/37/3kids/St. Louis, MO
This WOD is in honor of all Mamas who have lost a baby and for all the babies who had to leave this earth too soon. I know you will all be reunited with them someday.
(Sorry I didn't get this out in October but it is an important message for any month.)
90 DAY CHALLENGE IV: DAY 29