Complete as many rounds as possible in 15 minutes of:
7 Push press, 20 lbs
10 Front squats, 40 lbs
15 Butterfly sit-ups
Post rounds completed to comments.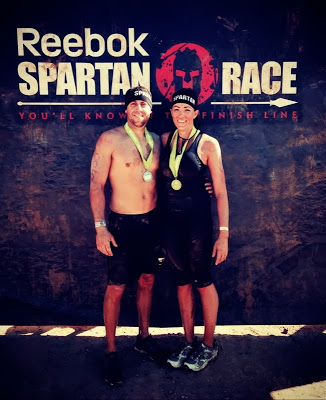 On Saturday my hubby and I ran the Spartan Beast in Sacramento. It was 13.6 miles on a cattle ranch (nothing paved or grated) and 26 obstacles, which if you failed you paid with 30 burpees each. This was our first race. It was brutal, there were walls, nets, rope traverses, barbed wire, buckets full of rocks heaved up and down hills, chains and cinder blocks, monkey bars, water, mud, 70 lb buckets of cement pulled 20 ft in the air, sharp rocks puncturing our skin, tear gas, 40 lb cement blocks, rolled ankles, and miles and miles of running on uneven terrain……but we finished. I only failed two obstacles and completed many that other women were not able to. I placed 26th out of 564 women and completed the race in 3:59. Without these WODs, I would have ended up with a lot more burpees and less completed obstacles. I loved feeling so strong and powerful and confident. Hiit workouts gave that to me and I am so glad I get to share them with all of you!
90 DAY CHALLENGE IV: DAY 22