"Faith"
3 rounds of:
Burpees
Power snatch, 20 lbs
Box jump, 18″ box
Thrusters, 20 lbs
Pull-ups (assist as needed)
"Faith" has the same format as Cat Fight. In this workout you
move from each of 5 stations after a minute. This is a five-minute
round from which a one-minute break is allowed before repeating. The
clock does not reset or stop between exercises. On call of "rotate," the
athlete/s must move to next station immediately for good score. One
point is given for each rep.
Add your points and post them to comments.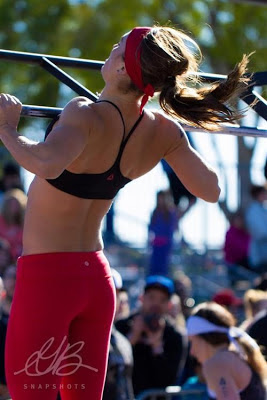 90 DAY CHALLENGE III: DAY

1
I
want to remind all my Challenge Mamas to do your before picture,
measurements and weight today. Very important. Then put your scale far,
far, far, far away where it will never be used until Day 90! Did you
know that constantly checking your weight and worrying about your weight
contributes to belly fat!?!???! The stress hormone cortisol is directly
linked to abdominal fat
storage. Besides, when you are strength training, sometimes you can
gain weight even though you are burning fat because you are adding
muscle which weighs more. The number is not important. What is important
is being strong, fit, and healthy and looking fierce naked, right?!?
All
of you who have just completed our last 90 Day Challenge, please send
me your pictures, results, and testimonials so that you can inspire all
of our new comers on their first 90 Day Challenge!
califitmamas@gmail.com
And…if I have missed any of you on our Challenge Roll Call, just let me know when you post your time and I will add you! 🙂