Hero WOD
For time:
30 Butterfly sit-ups
15 Squat clean, 20 lbs
24 Butterfly sit-ups
12 Squat clean, 20 lbs
18 Butterfly sit-ups
9 Squat clean, 20 lbs
12 Butterfly sit-ups
6 Squat clean, 20 lbs
6 Butterfly sit-ups
3 Squat clean, 20 lbs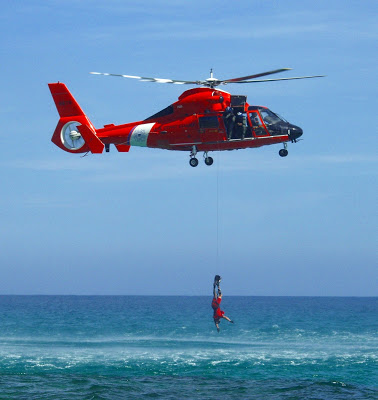 In honor of U.S. Coast Guard Chief Petty Officer Fernando Jorge, 39, of Cypress,
California, an Aviation Survival Technician Chief, died on February 28,
2012, when his unit's helicopter crashed into Mobile Bay in the Gulf of
Mexico during a training mission.
This one hits close to home for me because my husband served as a Helicopter Rescue Swimmer (Aviation Survival Technician) for 5 years (pictured above) before he became a firefighter. Rescue Swimmers are such a small, elite group that when a crew goes down, whether you are active or veteran, you feel it.
90 DAY CHALLENGE II: DAY

2