8 rounds of:
Run 400 meters
Rest 90 seconds
Post total time to comments not including 8th rest.
Compare to 07.13.12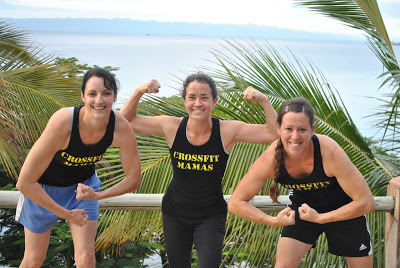 Hiit Mamas: Lesley, Joy and Becky
Africa
"Greetings from the Southern Hemisphere!!! We
are the Zambezi Hiit Mamas! The 3 of us live in Africa and serve
as missionaries. Although we all live very far away from one another,
we still workout "together". Each day after the WOD we email or text
each other across hundreds of miles to encourage and challenge each
other. Lesley is the mother of 2 kiddos and lives in Luangwa, Zambia.
Joy is the mother of 3 kiddos and lives in Zambia. Becky is the
mother of 4 and lives on the eastern coast of Mozambique. (in each
picture we are pictured left to right as written) We recently had a
meeting with our fellow missionaries at Lake Kariba in Zambia. Each
morning we woke up and worked out together! Oh how much fun it was to
workout together and laugh! WE LOVE HIIT MAMAS!!!
Blessings, Joy"
90 DAY CHALLENGE II: DAY

1
I want to remind all my Challenge Mamas to do your before picture, measurements and weight today. Very important. Then put your scale far, far, far, far away where it will never be used until Day 90! Did you know that constantly checking your weight and worrying about your weight contributes to belly fat!?!???! The stress hormone cortisol is directly linked to abdominal fat storage. Besides, when you are strength training, sometimes you can gain weight even though you are burning fat because you are adding muscle which weighs more. The number is not important. What is important is being strong, fit, and healthy and looking fierce naked, right?!?
All of you who have just completed our last 90 Day Challenge, please send me your pictures, results, and testimonials so that you can inspire all of our new comers on their first 90 Day Challenge! hiitmamas@gmail.com
And…if I have missed any of you on our Challenge Roll Call, just let me know when you post your time and I will add you! 🙂