What Motivates You? 
One of the biggest challenges in our fitness journeys is motivation. How have I done it for the last 6 years with the busy schedules of 4 growing kids? To be honest….. I don't sometimes. Sometimes I have literally zero motivation to do anything. I think, as busy Moms, it is easy to wear ourselves out. We have so many things on our plates, so many expectations from ourselves and others, such long to-do lists, that we can just run ourselves ragged before we even begin to think about adding one more thing to the list, like working out! Here are 5 keys to staying motivated and achieving success:
1. Have a goal.
What do you really want? I wanted to turn all that loose, flabby, blubby, soft skin and muscle into a tight strong body. Going back and forth, up and down 20-30 pounds each pregnancy……four times!?! My body was wrecked! I decided I was going to make my body look like it had never carried and birthed 4 kids and strong enough to be healthy and strong so I could keep up with all of them. I wanted to like how I looked in my jeans, in my dress, in my swimsuit, and naked! At the time I really couldn't imagine what it might feel like to feel completely confident in a swimsuit…… but I had a goal.
2. Make a plan.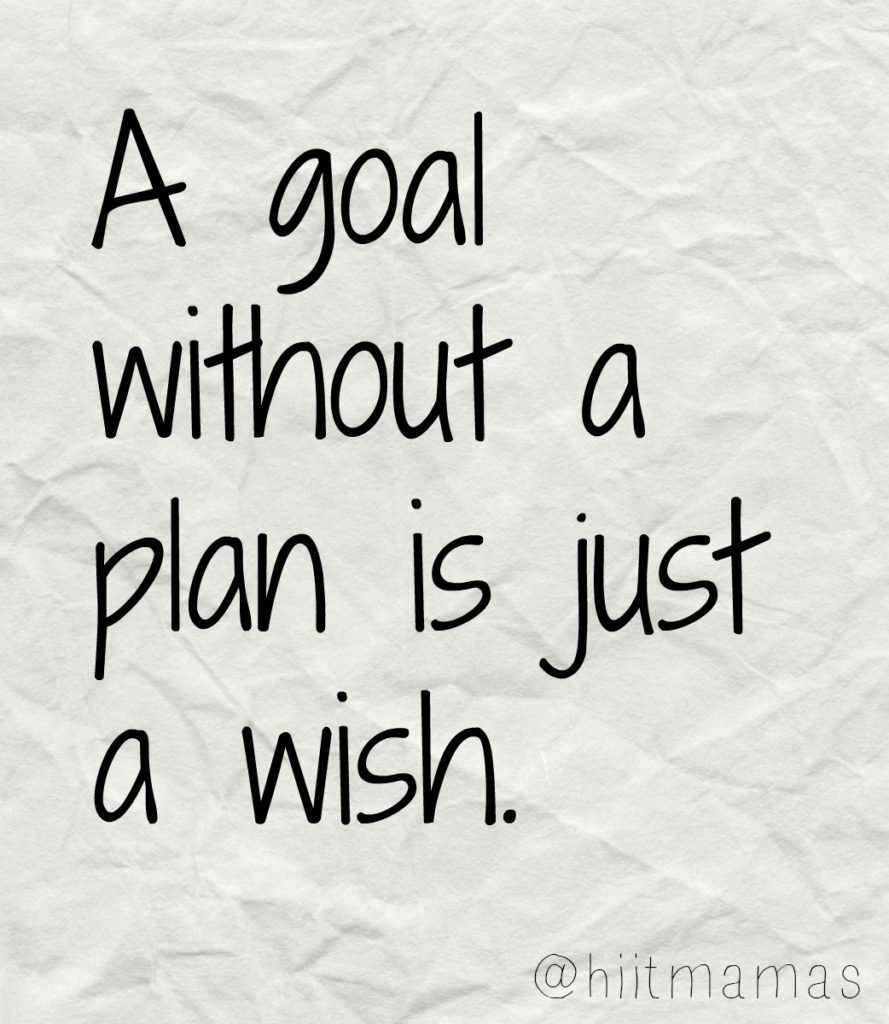 If you don't make a plan, the goal will just remain a wish and never be realized. The first and most important part of the plan is to find the kind of workout that you can stick to easily. For me, this is how Hiit Mamas was born. I had tried the gym and I couldn't stay motivated to make the time to get dressed up and drive there, only to not have everything I needed. I hate treadmills and usually had to wait for one and I can't stand people watching me workout. So the gym was out. I tried celebrity workout videos and was able to stick to that for about 6 months until I got sick of doing the same 10 workouts every 2 weeks and they became too easy. Workout videos were out. I started to wonder if I would ever be able to achieve my goal within my current sitaution = with a 6, 4, and 2 year old and a newborn. I finally did find the perfect workouts for me = at home, different every day, fast, efficient and free which was something I could finally stick to. So I made a plan: I would do the Workout Of the Day (WOD) every weekday (Monday – Friday) and I wouldn't make any excuses. If life happened and I missed one day, I would make it up on Saturday. 
3. Be accountable.
The key to accountability is making rules for yourself that have consequences attached. It is kind of like you have to parent yourself. Make a list of things you will do and attach a weekly reward if you accomplish it, and a consequence if you don't. For example: if I go Monday-Saturday without any sugar, on Sunday I can have a cheat day or I will finish 5 workouts a week and if I miss one, I will have to make it up on Saturday or do a double WOD one day. Set up your goals as rules and hold yourself accountable by rewarding yourself weekly for accomplishing them. For myself, I am trying to grow my butt. I am tall (5'10") and naturally thin, I know, such a blessing but it comes with long muscles and a flat small butt. And all the pregnancies just made it flatter. I set a specific goal for my butt and abs and  reward myself weekly when I have made progress. Pictures help a lot: keep a picture journal and comparing pictures as you progress is a good motivation as well.  Another great way to stay accountable is to post your times to the site. This is how we involve others in our progress and can keep each other accountable. My sister has been faithful to my workouts since HIIT Mamas was born and if I don't see her time posted, I usually check in and see what's up. Involve your girlfriends, start a group challenge, throw money in a pot!
4. Be empowered.
You can do this. Don't let any excuse be acceptable. As moms we have to learn how to prioritize and not put ourselves at the bottom. Your health is important and so is your fitness. It will boost your energy, your vitality, your self-image, your mood, and your motivation to continue. Take each day as a new start. It doesn't matter if you failed yesterday, today is a new day. As you look back on last year, what would you change for yourself? Think about that and make that change. Life is short and you deserve to be happy and healthy and hot!
5. Reward yourself.
Don't be hard on yourself. You are valuable and unique and the only one of you that will ever be. You need to be your own best friend. Your self talk should not be something you would not say to your best friend. You are beautiful and you deserve everything you dream of. Treat yourself well and reward yourself often. It can be a bubble bath with a book or 3 bites of your favorite ice cream, buy yourself something small but life changing, like a glass turkey baster. LOL. Go get a pedicure, buy a new pair of jeans that fit just right. You know, the good stuff.